---
Who was Typhoid Mary?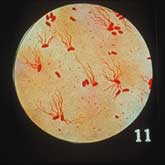 Mary Mallon lived in New York about 100 years ago, and worked as a cook. It seemed that every family she worked for suffered an outbreak of typhoid fever! The Dept. of Public Health found that she harbored the bacteria salmonella typhi, which causes typhoid fever. Even though there were no antibiotics in those days, doctors did know how to culture bacteria from samples of blood, saliva, or feces. Mary was not an educated person, and couldn't believe she was really making people sick, so she refused to give up being a cook. Finally she was more or less imprisoned in a hospital for the rest of her life.
How could it happen that Mary Mallon was contagious for typhoid fever but not sick? Scientists agree that after recovering from an attack of typhoid fever, a few people harbor the salmonella as a film on their gallstones, hidden from the action of their immune system. Such people get well because their immune systems kill the salmonella that try to escape to other parts of their bodies. (People who have recovered from typhoid are immune afterward.) However the bacteria can still be spread to other people and make them sick.
It isn't clear whether everyone who suffers from gallstones can become a 'Typhoid Mary', or if there also needs to be something special about the strain of salmonella typhi that infects them.
About the Author
Sandy Becker, MA

Sandy Becker received a BA in history from Pomona College. She then earned two MAs in Biology, and now has 25 years of experience in developmental biology research, working with mouse embryonic stem cells. Sandy began writing science articles about ten years ago to share her knowledge of science. She is currently studying for her third MA, in science journalism.
---