---
Global Warming?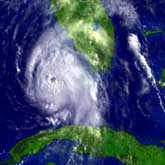 The contiguous United States experienced its 16th coolest summer on record and seventh coolest August, according to scientists at NOAA Climatic Data Center in Asheville, N.C. While much of the West, including Alaska, remained warmer than average, the majority of the nation had a cool summer, with Minnesota having its coldest August on record. Meanwhile, eight named tropical cyclones in the Atlantic basin broke a record for named storms during the month of August. NOAA scientists report that the average temperature for the contiguous United States for June-August (based on preliminary data) was 71.1 degrees F, which was 1.0 degree F below the 1895-2003 mean, and the 16th coolest summer on record. The mean temperature in 30 states was significantly below average, with only three states averaging much warmer than the long-term mean. Alaska had a record warm May, June and July and though final numbers are not yet available, August and the summer was very warm across the state.
Nationwide, June - August 2004 was the 10th wettest summer, with dryness remaining in parts of the Southwest and northern Plains, but the southern region had its wettest summer on record. Seven states in the contiguous U.S. had much wetter-than-average conditions for the summer, with Texas and Pennsylvania having their second and fourth wettest summers on record, respectively. Below average summer precipitation occurred in many areas of the West, where drought has persisted for much of the past four to five years. The drier-than-average conditions, along with warmer-than-normal temperatures in the West, exacerbated the long-term drought conditions in some locations. Reservoir levels also remained below average in many areas. At the end of the summer, 69 percent of the western United States was in moderate-to-extreme drought, compared with 76 percent at this time last year, based on a widely used measure of drought, the Palmer Drought Index.
Eight tropical systems in the Atlantic Basin during August were enough to break the record for the most named storms for any August. Six of those storms affected the United States: Hurricane Alex brushed the Outer Banks of North Carolina; Tropical Storm Bonnie made landfall in Florida's Panhandle; Hurricane Charley came ashore as a Category 4 hurricane just north of Fort Myers, Fla., and affected much of the East Coast; Tropical Storm Gaston affected the Carolinas and Virginia dumping as much as 12 inches of rain in parts of Virginia; Tropical Storm Hermine affected eastern Massachusetts and major Hurricane Frances moved westward across the Atlantic, eventually making landfall as a Category 2 hurricane in Florida in early September. The 2004 summer also brought weak El Nino-like conditions, as sea-surface temperatures increased throughout much of the central and east-central equatorial Pacific.
Fact Credit
NOAA National Oceanic and Atmospheric Administration
---