---
Dress Sizes The Scientific Way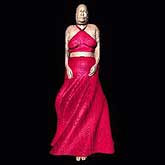 In pre-industrial America, most clothing was crafted at home or by professional tailors or dressmakers from individual measurements taken of each customer. In the early Twentieth Century, the growing urban middle class began to purchase the affordable and fashionable ready-to-wear merchandise which new technology and industrialized production methods had created the means to manufacture.
At the request of the Mail Order Association of America (MOAA), between 1949-1952 the National Bureau of Standards (NBS, now NIST) conducted a comprehensive study of women's body measurements to develop a sizing standard for women's ready-to-wear clothing. Mansfield Lonie of the NBS Commodity Standards Division was appointed Acting-Secretary of the Sub-Committee on Body Measurements for Wearing Apparel Sizes and Measurements of the MOAA Committee on Standards and Terminology. Churchill Eisenhart and Lola Deming, mathematicians in the NBS Statistical Engineering Laboratory, lent their expertise to the project.
The project was an unusual one for Bureau staff who were accustomed to analyzing measurements in the hard physical sciences and engineering. Suddenly NBS statistical engineers found themselves thinking in terms of 'abdominal extension' and 'bust point to bust point' measurements. NBS personnel attended meetings with representatives of organizations such as the Underwear Institute and the Corset and Brassiere Association of America. At these meetings, delicate matters were breached such as, to quote from minutes of an October 21, 1949 meeting, 'the subject of 'chubby' sizes…' Other concerns were wrestled with, such as whether to use a one-hip, three-bust or a one-bust, three-hip system. The resulting standard is still used by manufacturers to make clothing that fits a majority of today's diverse female population. Additionally, more studies are being done to update information and to modernize the standard.
About the Author
NIST General

The National Institute of Standards and Technology is a physical sciences laboratory and a non-regulatory agency of the United States Department of Commerce. Its mission is to promote innovation and industrial competitiveness.
---