---
Legionnaires' Disease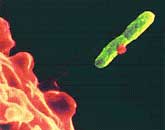 Legionnaires' disease, which is also known as Legionellosis, is a form of pneumonia. It is often called Legionnaires' disease because the first known outbreak occurred in the Bellevue Stratford Hotel that was hosting a convention of the Pennsylvania Department of the American Legion. In that outbreak, approximately 221 people contracted this previously unknown type of bacterial pneumonia, and 34 people died. The source of the bacterium was found to be contaminated water used to cool the air in the hotel's air conditioning system.
Legionnaires' disease is most often contracted by inhaling mist from water sources such as whirlpool baths, showers, and cooling towers that are contaminated with Legionella bacteria. There is no evidence for person-to-person spread of the disease. Symptoms of Legionnaires' disease include fever, chills, and a cough that may or may not produce sputum. Other symptoms include abdominal pain, diarrhea, and confusion. This list of symptoms, however, does not readily distinguish Legionnaires' disease from other types of pneumonia. Legionnaires' disease is confirmed by laboratory tests that detect the presence of the bacterium, Legionella pnuemophila, or the presence of other bacteria in the family Legionellaceae. It is the most often treated with the antibiotic drug Erythromycin.
Although Legionnaires' disease has a mortality rate of 5 to 15 percent, many people may be infected with the bacterium that causes the disease, yet not develop any symptoms. It is likely that many cases of Legionnaires' disease go undiagnosed. Legionnaires' disease can be viewed as an example of how our physical environment affects our health. Relative humidity, temperature, and other environmental factors can alter the incidence and the fatality rates of infectious diseases, including Legionnaires' disease. For example, cooling towers and evaporative condensers of large air conditioning systems have been associated with outbreaks of the disease, and the highest incidence of Legionnaires' disease occurs in the warmest months of the year, the time when air conditioning systems are used the most.
Fact Credit
NIH NIEHS
---