---
What Is Acetone?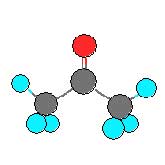 Acetone is a manufactured chemical that is also found naturally in the environment. It is a colorless liquid with a distinct smell and taste. It evaporates easily, is flammable, and dissolves in water. It is also called dimethyl ketone, 2-propanone, and beta-ketopropane. Acetone is used to make plastic, fibers, drugs, and other chemicals. It is also used to dissolve other substances.
It occurs naturally in plants, trees, volcanic gases, forest fires, and as a product of the breakdown of body fat. It is present in vehicle exhaust, tobacco smoke, and landfill sites. Industrial processes contribute more acetone to the environment than natural processes.
If you are exposed to acetone, it goes into your blood which then carries it to all the organs in your body. If it is a small amount, the liver breaks it down to chemicals that are not harmful and uses these chemicals to make energy for normal body functions. Breathing moderate- to-high levels of acetone for short periods of time, however, can cause nose, throat, lung, and eye irritation; headaches; light-headedness; confusion; increased pulse rate; effects on blood; nausea; vomiting; unconsciousness and possibly coma; and shortening of the menstrual cycle in women. Swallowing very high levels of acetone can result in unconsciousness and damage to the skin in your mouth. Skin contact can result in irritation and damage to your skin. The smell and respiratory irritation or burning eyes that occur from moderate levels are excellent warning signs that can help you avoid breathing damaging levels of acetone.
Fact Credit
Agency For Toxic Substances and Disease
Agency For Toxic Substances and Disease
---