---
Pass the Basalt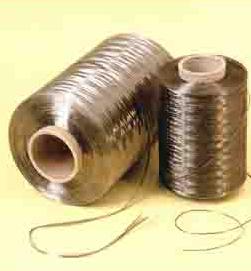 Advanced composite materials technology is a field that is growing both quickly and steadily. That new fiber materials and applications will be developed is the proverbial 'no brainer'. However, basalt fiber represents one of those little strokes of simple genius that appear once in a while. Basalt itself is familiar from the columnar formations in volcanic deposits. That same columnar structure is a clue to the molecular behaviour of basalt, a hint that it might be a viable fiber-forming material. Molten basalt can indeed be extruded into fibers, but what was basalt first if not just molten rock ejected from the vent (a volcano...) of a very large furnace (the Earth...)? Where else do we see this happening?
How about in the metals industry, where millions of tons of molten rock are ejected from somewhat smaller furnaces each year in the form of slag? Indeed, basalt fiber is now produced in quantity in two source grades: 'basalt', and 'modified basalt' or slag. Basalt fibers can be processed into all the fabric forms currently available with glass fiber, and they can be substituted directly into any application for which glass fiber is suitable. Basalt fiber materials are proving to be a very useful alternative in applications calling for a more robust version of glass fiber, and in other applications that have traditionally been the domain of rock fibers such as asbestos.
Since basalt is also a rock fiber it exhibits far better heat resistance than does glass fiber, withstanding conditions that would quickly destroy glass constructs. It also exhibits a significantly higher chemical stability than does glass fiber. Being a recently developed material, research into potential applications of basalt fiber has really only just begun. The properties of basalt fiber will certainly guarantee that its major uses will be in the construction trades, but it will undoubtedly see far broader applications as well.
About the Author
Richard M J Renneboog, MS

Richard M. J. Renneboog is an independent private technical consultant and writer in both chemical and computer applications. Endeavors have included preparation of scripts for instructional and promotional video, corporate website design, curriculum development for training in advanced composites technology, and development.
---