---
Steller Sea Lion Biology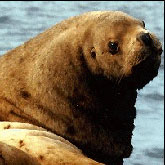 The Steller sea lion (Eumetopias jubatus) is the largest member of the Otariid (eared seal) family. Males may be up to 325 cm (10-11 ft) in length and can weigh up to 1,100 kg (2,400 lb). Females are smaller than males, 240-290 cm (7.5-9.5 ft) in length and up to 350 kg (770 lb) in mass. Males and females are light buff to reddish brown and slightly darker on the chest and abdomen; naked parts of the skin are black. Wet animals usually appear darker than dry ones. Pups are about 1 m (3.3 ft) in length and 16-23 kg (35-50 lb) at birth and grow to about 30-40 kg (65-90 lb) after 6-10 weeks. Pups are dark brown to black until 4 to 6 months old when they molt to a lighter brown. By the end of their second year, pups have taken on the same pelage color as adults.
Bulls become mature between 3 and 8 years of age, but typically are not massive enough to hold territory successfully until 9 or 10 years old. Females reproduce for the first time at 4 to 6 years of age, bearing at most a single pup each year. Pups are born from late May through early July, with peak numbers of births during the second or third week of June. Females stay with their pups for about 9 days before beginning a regular routine of foraging trips to sea. Females mate 11 to 14 days after giving birth. Implantation takes place in late September or early October, after a 3-4 month delay. Weaning is not sharply defined as it is for most other pinniped species, but probably takes place gradually during the winter and spring prior to the following breeding season. It is not uncommon to observe 1- or 2-year-old sea lions suckling from an adult female.
Steller sea lions are opportunistic predators, feeding primarily of a wide variety of fishes and cephalopods. Prey varies geographically and seasonally. Some of the more important prey species in Alaska include walleye pollock (Theragra chalcogramma), Atka mackerel (Pleurogrammus monopterygius), Pacific herring (Clupea harengus), Capelin (Mallotus villosus), Pacific sand lance (Ammodytes hexapterus), Pacific cod (Gadus macrocephalus), and salmon (Oncorhynchus spp.). Steller sea lions have been known to prey on harbor seal, fur seal, ringed seal, and possibly sea otter pups, but this would represent only a supplemental component to the diet.
About the Author
NOAA National Oceanic and Atmospheric Administration

The National Oceanic and Atmospheric Administration is an American scientific agency within the United States Department of Commerce that focuses on the conditions of the oceans, major waterways, and the atmosphere.
---