---
Near-Earth Supernovas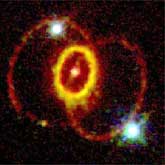 Supernovas near Earth are rare today, but during the Pliocene era of Australopithecus supernovas happened more often. Their source was an interstellar cloud called 'Sco-Cen' that was slowly gliding by the solar system. Within it, dense knots coalesced to form short-lived massive stars, which exploded like popcorn.
Researchers estimate (with considerable uncertainty) that a supernova less than 25 light years away would extinguish much of the life on Earth. The blast needn't incinerate our planet. All it would take is enough cosmic rays to damage the ozone layer and let through lethal doses of ultraviolet (UV) radiation. Our ancestors survived the Pliocene blasts only because the supernovas weren't quite so close. We know because we can still see the cloud today. It's 450 light years from Earth and receding in the direction of the constellations Scorpius and Centaurus (hence the cloud's name, 'Sco-Cen'). Astronomer Jesus Maiz-Apellaniz of Johns Hopkins University recently backtracked Sco-Cen's motion and measured its closest approach: 130 light years away about 5 million years ago.
Sco-Cen was still nearby only two million years ago when many plankton, mollusks, and other UV-sensitive marine creatures on Earth mysteriously died. Paleontologists mark it as the transition between the Pliocene and Pleistocene epochs. Around the same time, according to German scientists who have examined deep-sea sediments from the Pliocene era, Earth was peppered with Fe60, an isotope produced by supernova explosions. Coincidence? No one knows. It's a puzzle researchers are still piecing together.
About the Author
NASA Marshall Space Flight Center

The George C. Marshall Space Flight Center, located in Huntsville, Alabama, is the U.S. government's civilian rocketry and spacecraft propulsion research center. As the largest NASA center, MSFC's first mission was developing the Saturn launch vehicles for the Apollo program.
---