---
Wernher Von Braun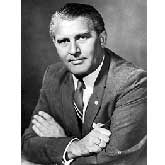 Wernher Von Braun was one of the world's first and foremost rocket engineers and a leading authority on space travel. His will to expand man's knowledge through the exploration of space led to the development of the Explorer satellites, the Jupiter and Jupiter-C rockets, Pershing, the Redstone rocket, Saturn rockets, and Skylab, the world's first space station. Additionally, his determination to 'go where no man has gone before' led to mankind setting foot on the moon.
Living in Huntsville, Alabama from 1950 to 1970, Dr. von Braun first directed the technical development of the U.S. Army's ballistic missile program at Redstone Arsenal, and later served as Director of NASA's Marshall Space Flight Center. When he transferred to Washington, D.C., he left Huntsville with a rich legacy: the research institutions at the University of Alabama in Huntsville, the Alabama Space and Rocket Center, and the Von Braun Civic Center.
About the Author
NASA Marshall Space Flight Center

The George C. Marshall Space Flight Center, located in Huntsville, Alabama, is the U.S. government's civilian rocketry and spacecraft propulsion research center. As the largest NASA center, MSFC's first mission was developing the Saturn launch vehicles for the Apollo program.
---