---
White Sands National Monument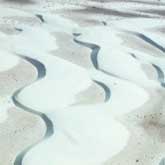 At the northern end of the Chihuahuan Desert lies a mountain ringed valley called the Tularosa Basin. Rising from the heart of this basin is one of the world's great natural wonders - the glistening white sands of New Mexico. Here, great wave-like dunes of gypsum sand have engulfed 275 square miles of desert and have created the world's largest gypsum dune field. The brilliant white dunes are ever changing: growing, cresting, then slumping, but always advancing. Slowly but relentlessly the sand, driven by strong southwest winds, covers everything in its path. Within the extremely harsh environment of the dune field, even plants and animals adapted to desert conditions struggle to survive. Only a few species of plants grow rapidly enough to survive burial by moving dunes, but several types of small animals have evolved a white coloration that camouflages them in the gypsum sand.
White Sands National Monument preserves a major portion of this gypsum dune field, along with the plants and animals that have successfully adapted to this constantly changing environment. The largest pure gypsum dune field in the world is located at White Sands National Monument in south-central New Mexico. This region of glistening white dunes is in the northern end of the Chihuahuan Desert within an
The remainder is on military land that is not open to the public. This dune field is very dynamic, with the most active dunes moving to the northeast at a rate of up to 30 feet per year, while the more stable areas of sand move very little. The pure gypsum (hydrous calcium sulfate) that forms these unusual dunes originates in the western portion of the monument from an ephemeral lake or playa with a very high mineral content. As the water evaporates (theoretically as much as 80
About the Author
NPS National Parks Service

The National Park Service is an agency of the federal government of the United States that manages all national parks, many national monuments, and other conservation and historical properties with various title designations.
---