NOAA National Hurricane Center
The National Hurricane Center (NHC) is the division of the United States' NOAA/National Weather Service responsible for tracking and predicting tropical weather systems between the Prime Meridian and the 140th meridian west poleward to the 30th parallel north in the northeast Pacific Ocean and the 31st parallel north in the northern Atlantic Ocean.

Science Facts Written by NOAA National Hurricane Center
Geology
Why Don't We Try To Destroy Tropical Cyclones?
There have been numerous techniques that we have considered over the years to modify hurricanes: seeding clouds with dry ice or Silver Iodide, cooling the ocean with cryogenic material or icebergs, ... Continue reading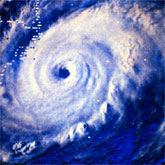 Geology
What's In A Name?
Hurricane Elena as seen from the space shuttle. Have you ever wondered how hurricanes get their names? For several hundred years many hurricanes in the West Indies were named after the particular ... Continue reading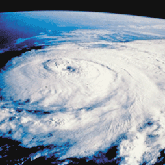 Geology
The Saffir-Simpson Hurricane Scale
The Saffir-Simpson Hurricane Scale is a 1-5 rating based on the hurricane's present intensity. This is used to give an estimate of the potential property damage and flooding expected along the coast ... Continue reading