---
What's In A Name?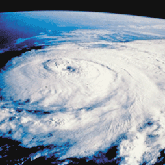 Hurricane Elena as seen from the space shuttle. Have you ever wondered how hurricanes get their names? For several hundred years many hurricanes in the West Indies were named after the particular saint's day on which the hurricane occurred. Experience shows that the use of short, distinctive given names in written as well as spoken communications is quicker and less subject to error than the older more cumbersome latitude-longitude identification methods. These advantages are especially important in exchanging detailed storm information between hundreds of widely scattered stations, coastal bases, and ships at sea.
The use of easily remembered names greatly reduces confusion when two or more tropical storms occur at the same time. For example, one hurricane can be moving slowly westward in the Gulf of Mexico, while at exactly the same time another hurricane can be moving rapidly Northward along the Atlantic coast. In the past, confusion and false rumors have arisen when storm advisories broadcast from radio stations were mistaken for warnings concerning an entirely different storm located hundreds of miles away. Since 1953, Atlantic tropical storms have been named from lists originated by the National Hurricane Center and now maintained and updated by an international committee of the World Meteorological Organization. The lists featured only women's names until 1979, when men's and women's names were alternated.
Six lists are used in rotation. Thus, the 2001 list will be used again in 2007. The only time that there is a change in the list is if a storm is so deadly or costly that the future use of its name on a different storm would be inappropriate for reasons of sensitivity. If that occurs, then at an annual meeting by the WMO committee (called primarily to discuss many other issues) the offending name is stricken from the list and another name is selected to replace it. The name lists have an international flavor because hurricanes affect many nations and are tracked by the public and weather services of countries other than the United States. Names for these lists are selected from library sources and agreed upon by nations involved during international meetings of the World Meteorological Organization.
About the Author
NOAA National Hurricane Center

The National Hurricane Center (NHC) is the division of the United States' NOAA/National Weather Service responsible for tracking and predicting tropical weather systems between the Prime Meridian and the 140th meridian west poleward to the 30th parallel north in the northeast Pacific Ocean and the 31st parallel north in the northern Atlantic Ocean.
---