---
The Rapid Movement of the Soybean Rust Pathogen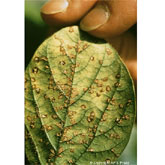 Soybean rust, caused by the fungus Phakopsora pachyrhizi, results in soybean yield losses of up to 80%. Rust diseases are named for the orange powdery spores produced in leaf pustules. They are easily airborne from plant to plant.
Although the disease does not occur in the continental U.S.A., projected losses of $7.1 billion per year were estimated in a 1984 economic risk analysis. The first report of the disease was from Japan in 1902. By the 1950s the disease was reported in most Asian countries. It was not until the 1990s that the disease was confirmed in the Western Hemisphere. The first report was from Hawaii in 1994. The disease was first found in South America after 1999 and is now in four countries. The continental U.S. is the only major soybean producing area in the world where soybean rust has not been found.
The rapid spread of P. pachyrhizi and its potential to cause severe yield losses makes this the most destructive foliar disease of soybean and could have a major impact on soybean production in the U.S.A.
About the Author
Glen Hartman, PhD

Dr. Hartman has 21 years of research experience in soybean pathology. He received his M.S. and Ph.D. degrees in 1984 in 1987, respectively, at the University of Illinois. Upon completion of his Ph.D., he held a postdoctoral position as the leader of the legume pathology program at the International Institute of Tropical Agriculture (IITA), Ibadan, Nigeria. From 1989 through 1992, Dr. Hartman was the head plant pathologist at the Asian Vegetable Research and Development Center (AVRDC) in Taiwan where part of his responsibilities was to conduct research on soybean rust. He began working for the USDA, ARS in 1993 at the University of Illinois. His current research program is focused on basic studies of variability and biology of soybean pathogens, epidemiology of soybean diseases, and the nature and genetics of host plant resistance.
---