---
Wetlands Top Ecosystem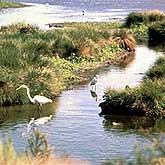 Wetlands are areas where water covers the soil, or is present either at or near the surface of the soil all year or for varying periods of time during the year, including during the growing season. Water saturation largely determines how the soil develops and the types of plant and animal communities living in and on the soil. Wetlands may support both aquatic and terrestrial species. The prolonged presence of water creates conditions that favor the growth of specially adapted plants and promote the development of characteristic wetland soils.
Wetlands vary widely because of regional and local differences in soils, topography, climate, hydrology, water chemistry, vegetation, and other factors, including human disturbance. Indeed, wetlands are found from the tundra to the tropics and on every continent except Antarctica. Two general categories of wetlands are recognized: coastal or tidal wetlands and inland or non-tidal wetlands.
Wetlands are among the most productive ecosystems in the world, comparable to rain forests and coral reefs. An immense variety of species of microbes, plants, insects, amphibians, reptiles, birds, fish, and mammals can be part of a wetland ecosystem. Physical and chemical features such as climate, landscape shape (topology), geology, and the movement and abundance of water help to determine the plants and animals that inhabit each wetland. The complex, dynamic relationships among the organisms inhabiting the wetland environment are referred to as food webs. Wetlands can be thought of as 'biological supermarkets.' They provide great volumes of food that attract many animal species. These animals use wetlands for part of or all of their life-cycle.
About the Author
EPA US Environmental Protection Agency

The Environmental Protection Agency is an independent executive agency of the United States federal government tasked with environmental protection matters.
---